Dear Backers and players,  
Design rework :
After completing the work on the game mechanics, we found that a rework of the design for some of the game's components was necessary. 
The majority of the modifications were done on the card designs to make them more readable and achieve a better uniformity in the entire game's graphic design. 
Cards' backs :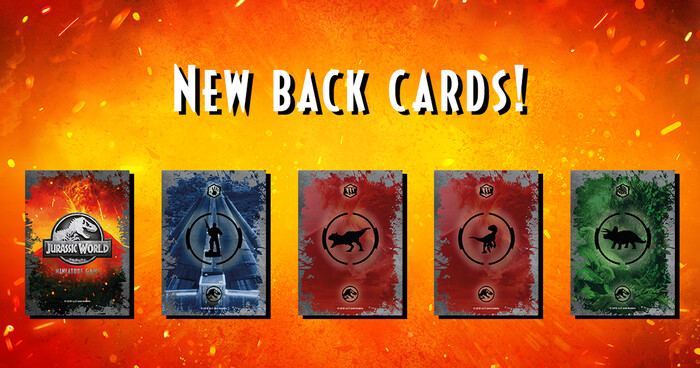 As you can see, the back of the hero cards now better matches the atmosphere of Jurassic World and Park. Action card backs have different backgrounds depending on the base faction of each unit.
New hero cards :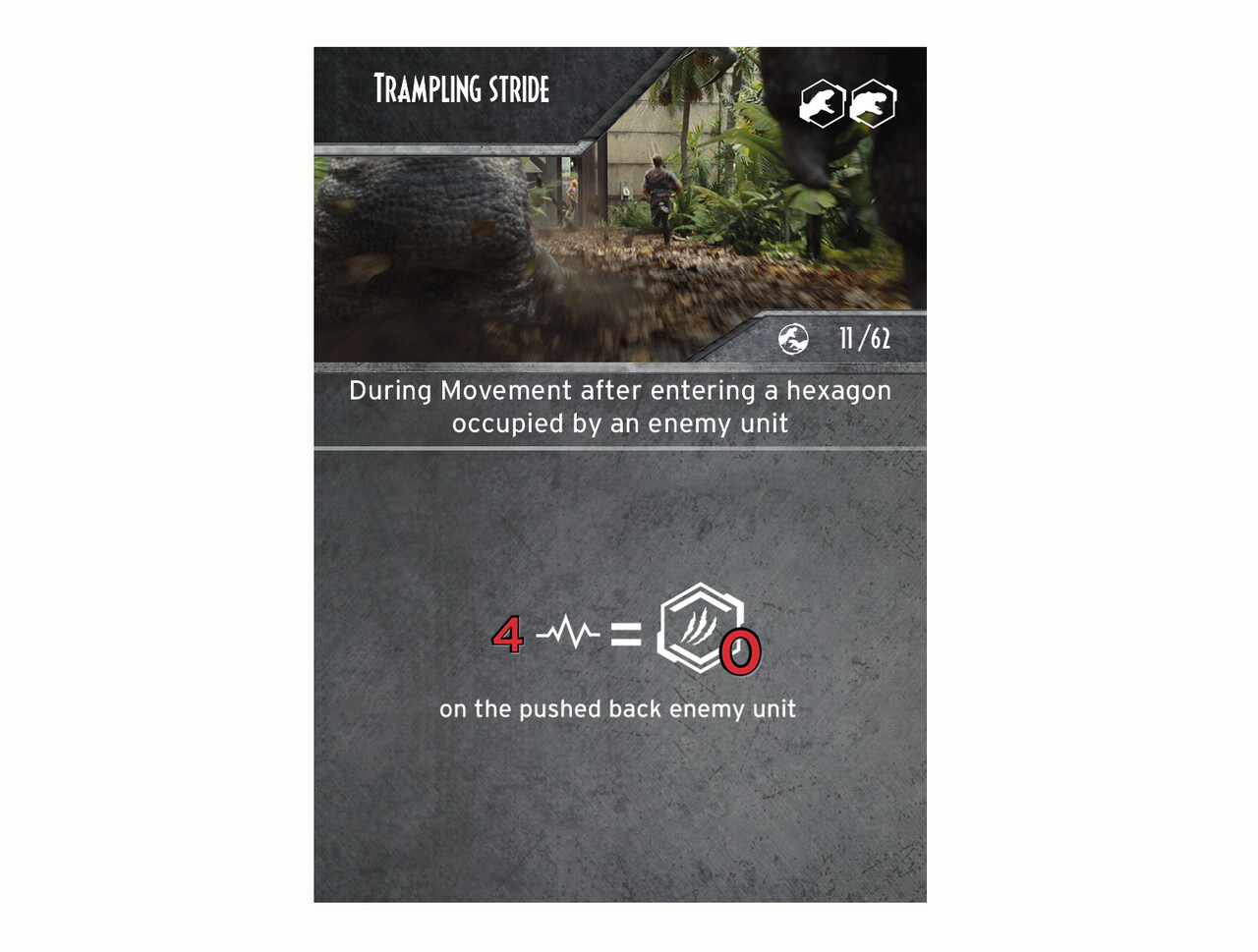 Hero cards are easier to read and make quick decisions. 
The above card is from the Domination expansion and reserved for Tyrannosaurus-rex or Indominus-rex. Check out the factions icons and expansion logo on the top right of the card. 
Most of the cards of this Expansion is dedicated to each of these killing machines. Hopefully, some are reserved for Human faction to take on these sizeable threats ("Hide your smell", "Lindstradt air-rifle", etc.).
Exod Studio website :
As announced during our previous Facebook live, Exod Studio website is now live. 
Exod Studio is gathering the strength of Cimmeria Projects and Exod Games.
The website supports, presentation and news for all of our games and particularly Jurassic World Miniature Game in the "Expert game" section. Soon the forums will be opened.
Come visit by clicking the links below welcome page and Expert Range:
https://exodgames.artstation.com/pages/expert-games
Social Media :
The new hero card back that you can see above was subject to a poll on the game Fan group Facebook page. We will try to make further polls in the future, so visit the page :
https://www.facebook.com/groups/422609668334882/
You can also stay tuned for all our lives and news about our games by visiting and like Exod Studio Facebook page :
https://www.facebook.com/ExodGames/
You can also check out our Youtube channel, to find our previous videos and lives.
https://www.youtube.com/channel/UCGfgiDFjxTZoRQTKi5Y2Hsg
Exod and Cimmeria at Universal London, UK
On February 3rd we were visiting NBC Universal branch in London, UK. We took pictures there and Universal will give us their approval to post them in the next update.
A quick recap of the topics: 
"Battle at big rock" short movie license will be added to the current Jurassic World and Park franchise.
A new expansion will be available directly in stores. We will disclose the details and content at a later date.
Cimmeria Projects is also launching a range of large size collectibles, with the first miniature being Owen Grady at scale 1/5 (10 times the one of JWMG!). Other dinosaurs or heroes of the saga will certainly follow.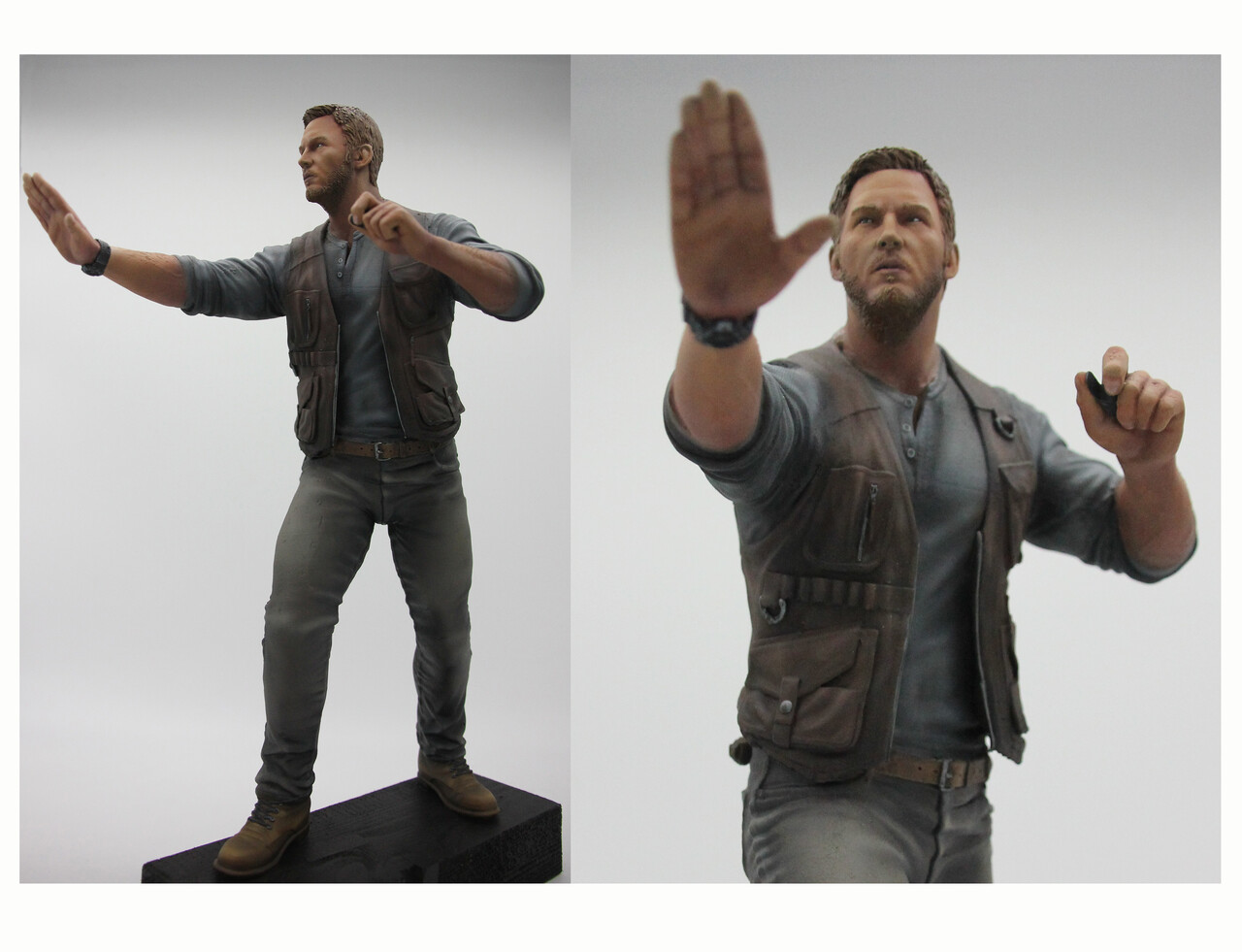 Situation in China and project status :
We are not the first to announce it and some of you already know it, our Canadian/Chinese manufacturer Panda is affected by the nCov-2019 coronaviruss spreading in China. The factory has been closed for 10 days (with possible renewal) for decontamination. The production schedule is disrupted and may take a couple of month to resume to optimal performance. 
As a result, we have decided to postpone the delivery of the first wave to September and merge it with the 2nd one. 
You will have the complete game and minis delivered in a single time before public retail November for partner stores and Q1 2021 for the other stores. 
Sorry for this delay and our team would like to address our thoughts to all the persons affected by this disease.
Festival International des Jeux in Cannes, France, February 21st to 23rd
After these grim new,s we would like to conclude on brighter news, with the FIJ in Cannes. 
Exod Studio will be attending the convention at the booth 16.02 to present the final version of JWMG. 
So do not hesitate to stop by and play. The author, Antonin Barral, will be present as well as a very large panel of dinosaurs to admire.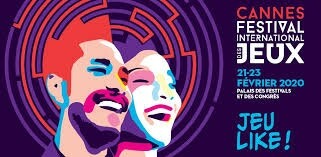 https://www.festivaldesjeux-cannes.com/fr/
Thanks for your patience and awesome support as always!